1. Kareena Kapoor and Priyanka Chopra
This one's kinda iconic, who isn't aware of the back-and-forth scuffle, between the two A-listers? Obviously, being the top competitors in Bollywood, isn't easy. Around the time Kareena was filming for, Heroine, she said that it was better than any of Madhur Bhandarkar's previous films, including, Fashion. Priyanka obviously had to retaliate at the snide remark, and said, "I guess if you don't have a national award, it's just sour grapes." Ouch!
Their rivalry goes back to the Koffee with Karan sets, when Kareena, referring to Priyanka, said, "Why does she have that accent?"
Priyanka's ace comeback, sure shut her up. "I think it was the same place her boyfriend (Saif Ali Khan) gets it from."
2. Sonam Kapoor and Deepika Padukone
They debuted in Bollywood, around the same time, and that can never call for a friendly truce, in the film industry. The competition levels were high, when Sonam's, Saawariya, didn't meet the success she had hoped for. While Deepika managed to attract the audience, right from the beginning.
But we were fooled by a little hint of friendship, when the duo appeared on Koffee with Karan, and ripped Ranbir Kapoor apart. It's safe to say, that it didn't last long, when Sonam took several digs at Deepika, insulting her fashion choices. She even said, that she would never publicise her plans to do social service, which came right after Deepika started her mental health awareness foundation.
Oh Sonam! ?
3. Priyanka Chopra and Karan Johar
Not a lot of people remember this, but Priyanka and Karan weren't always on the best of terms. We can't blame you though, after their adorable, and funny Koffee with Karan episodes, who would have thought that the duo had a nasty past?
In 2012, soon after Priyanka's rumoured affair with Shah Rukh Khan, started doing the rounds, one of her friends, gave an anonymous interview to the tabloids, saying, "If (star wives) are insecure about relationships with their husbands, they should sort it out with them at home. Why target Priyanka?" This was clearly targeted at Gauri Khan. And Karan, jumped at the chance to defend her, saying, "Using their hired PR machinery, and hiding behind so-called 'friends' to get news into tabloids is nothing but spineless and lame!!! Some people need to wake up and smell the KOFFEE!!! Get a reality check before it's too late!!! Grow up, and don't mess with goodness."
Well rumours are rumours, and let bygones be bygones, because the duo are currently on amazing terms.
4. Salman Khan and Shah Rukh Khan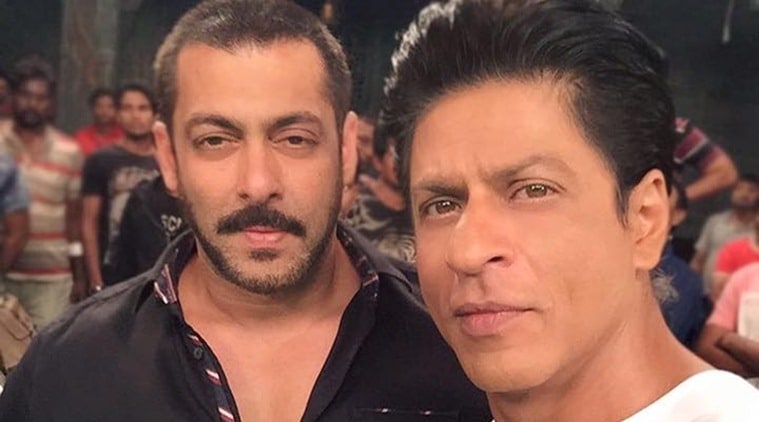 The cold war between the Khan's, had everyone talking! From being best friends, to enemies, and then back again, we could literally make a Bollywood film on Salman's and Shah Rukh's relationship.
The duo were friends for a while, before things got completely out of hand at Katrina Kaif's birthday party, in 2008. There's still a lot of speculation, about what actually happened at the party, but this is the gist of it - Shah Rukh apparently said something about Salman's ex, Aishwarya Rai Bachchan, and it turned into a massively, heated argument.
For years, we never thought the Khans would patch it up again. But they finally hugged it out at a party in 2013.
5. Kareena Kapoor and Bipasha Basu
Their fight is probably how the term, cat-fight, originated. Their hatred for each other, was covered by the tabloids for weeks, so we're sure you already know what we're talking about.
They did not get on well, right from the beginning, as Bipasha made her debut into Bollywood, with Ajnabee, that also starred Kareena. Soon after the film, Bipasha, in an interview, said, "I will not work with Kareena again. Because you either get along with people or you don't. I believe that if you get along with people off screen, you gel with them on screen."
Kareena retaliated, saying, "(Bipasha) just doesn't seem to have any confidence in her own talent. In a four-page interview, she spoke about me for three pages. Why not talk about your work? I think her only claim to fame is that she fought with me during Ajnabee, over dress designer Vikram Phadnis. She's given statements that I called her uncharitable names. Now, that's a figment of her imagination."
Well Kareena, you did publicly, call her a 'Black cat' - that classifies as 'uncharitable names', doesn't it?
She also took a dig at Bipasha's then boyfriend, John Abraham's acting skills, saying she would never work with him, and that he only has 'one expression'.
Meow!