Ever since Shahid Kapoor and Mira Rajput got married two years ago, they've been making headlines for being the perfect couple!
And just recently they appeared on the IIFA green carpet together, painting the town red (or orange in this case) with their bubbly personality. They couldn't stop gushing about each other or cozying up to each other in front of the paparazzi. And we just can't get enough of them! They were hands down the cutest couple at the awards, and here's why.
1. Shahid played the perfect gentleman and helped Mira out of the car.
2. Just the way they look at each other.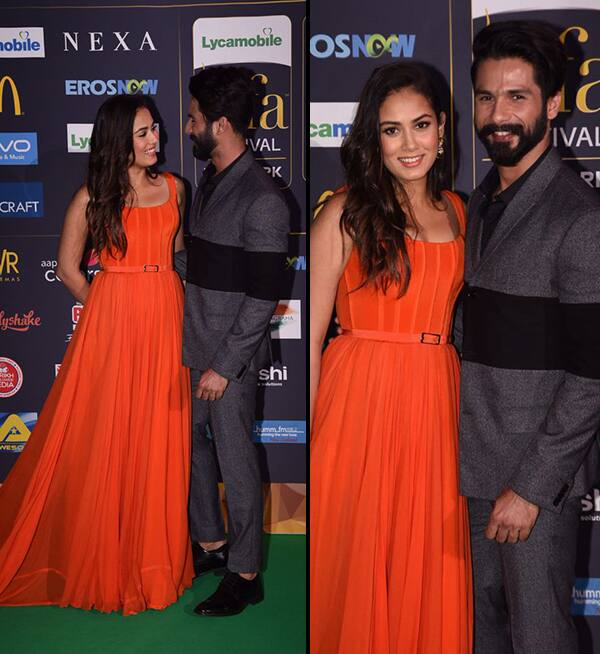 3. When there selfie game was strong AF.
[instagram ]https://www.instagram.com/p/BWlw5OrFS-E/[/instagram]
4. When Shahid hugged Mira first before accepting his award.
5. And then posted this picture on Instagram with the cutest caption.
[instagram ]https://www.instagram.com/p/BWmbvQTAiyi/?taken-by=shahidkapoor&hl=en[/instagram]
6. Just how cute and cheeky they are.
In an interview, Shahid revealed the 'naughtiest thing' he's ever done and said, "At the age of 18, I had no idea that I will be married to a girl who was five years old when I was 18. I guess that's the naughtiest thing I have done."
7. How he's always going to take out time for the family.
Shahid confessed in an interview with India Today at the green carpet that Mira finds him quite boring. "My wife thinks I am a boring person because I have been working for the past three days in New York. While she's been taking care of Misha on her own, and letting me take care of my work. But having said that, we'll have a couple of days off when IIFA is over," he said.
8. And finally, just for being their amazing selves.
[instagram ]https://www.instagram.com/p/BWngm9wjwWO/[/instagram]