Sunny Leone and Daniel Weber have become proud parents of a baby girl. Just recently, they adopted Nisha Kaur Weber from Latur, Maharashtra, and we couldn't be happier for them.
They're overjoyed to have completed their little family of three, and in an interview with Hindustan Times, Sunny talked about parenthood and said, "It's a responsibility for the rest of our lives. But we have been ready for that — physically, mentally and financially. We were working really hard because we wanted to start a family, and this is the way it's going to start, so it's amazing."
[twitter ]https://twitter.com/htshowbiz/status/888031980100534272[/twitter]
However, the news has been met with a mixed array of reactions from the Indian public. Some are praising the couple for adopting, while some are absolutely furious that the little girl would 'turn out like Sunny'.
They look absolutely adorable in their family picture, and it really should have warmed people's hearts, but clearly not. They took to social media to humiliate and criticise Sunny and it's so sickening!
Their main concern? That Sunny adopted the kid to raise her up like a pornstar or even a prostitue. Because obviously, there's no difference between the two, and that's exactly why people adopt, right? Some thought that Sunny is a disgrace and not fit to be a mom. What is wrong with people?!
Here are some of things that people commented and we're horrified!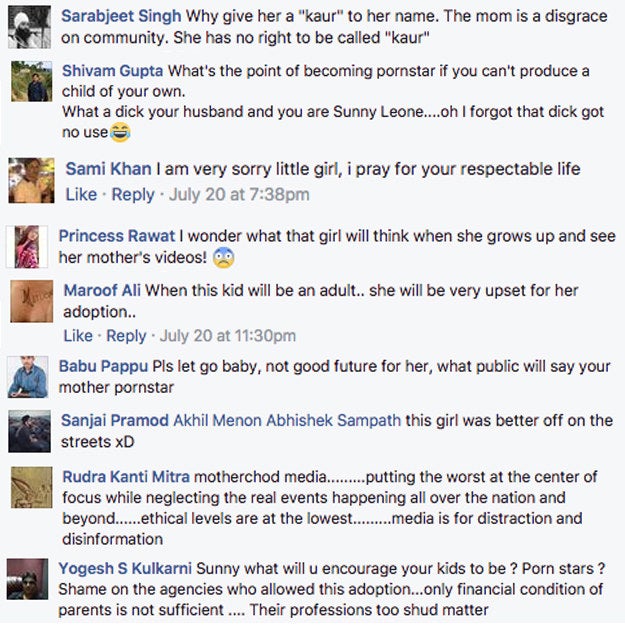 But this isn't the only time that Sunny was called out for her 'sickening past'. Remember the shameful interview where journalist Bhupendra Chaubey raised some misogynistic, sexist and highly-offensive questions about her pornstar life?
He said stuff like, "I'm wondering if I'm being morally corrupted by interviewing you," and whether her past as a porn-queen will "hold her back" and "haunt" her.
Here's the interview if you would like to re-jog your memory:
[youtube ]https://youtu.be/zT-Gd2djRV0[/youtube]
It's really impressive how she kept her cool during the whole interview, and held her ground. Because f*ck the haters, Sunny.