Lilly Singh aka 'iiSuperwomanii' is an Indo-Canadian comedian, singer and one of YouTube's biggest sensations! She has built an impressive empire and we are obsessed with her!
1) When she reached over a BILLION views on YouTube
How many people can say their face has been viewed over a billion times? Oh right, Lilly can!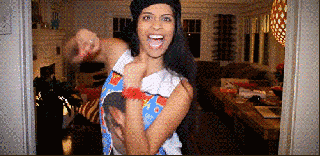 2) When she put an end to 'Girl-on-Girl' hate
With so much animosity and jealously amongst women, Lilly is choosing to promote praise and encouragement towards one another instead, using the hashtag #GirlLove. Bonus: all proceeds from the video will go to the Malala Fund which supports women's education around the world.
3) When was a guest on The Tonight Show Starring Jimmy Fallon
Last week, Lilly rocked the Jimmy Fallon show giving us all the deets on her #fabulouslife. She opened up about how cool her parents are in real life (did you know her mom knows all the lyrics to Drake?), how she got started on YouTube and her upcoming feature film A Trip To Unicorn Island which follows Lilly's journey on her world tour through 27 cities! She also 'killed' the Fast Family Feud game!
4) When she was the first to appear in the 2015 YouTube rewind video
At the end of each year, YouTube compiles a video with their most celebrated creators and guess who was the first comedian to make the appearance in this year's video? Our girl, Lilly!
5) When she toured the world!
Last year, Lilly traveled to 27 cities for her world tour, A Trip To Unicorn Island which included singing, dancing, acting and a whole lot of comedy. She also documented the entire experience for her first feature film, which releases on YouTube Red early this year.
6) When She Made the Top 10 Highest Paid YouTubers List
According to Forbes, Lilly is the 8th highest paid YouTuber of 2015! Lilly took home a sweet $2.5 million dollar check!
7) When She Mastered the Art of #GirlGoals
Not many people can tour the world, consistently put out amazing videos on multiple YouTube channels and stay connected with fans! It is obvious how hard Lilly actually works and we love her for it!