Being in the limelight might not always be as awesome as it seem.
Be it Hollywood or Bollywood, the media and (now thanks to social media) the ordinary people too get a chance to toss in their two pennies to body shame celebrities and they can be merciless.
Though in the past celebs kept mum, but not anymore. Thankfully, more and more celebs are directly challenging these judgmental (and frankly, baseless) remarks and empowering women all over the world.
Here are a few celebrities who stood up to body shamers in the best way possible:
1. Ariel Winter
When Ariel Winter, who is merely 18 years old, recently wore a strapless floor length dress by Romona Keveža to the Screen Actors Guild Awards red carpet, she was shamed for her breast reduction surgery scars but the young actress took to twitter to leave a rather powerful message.
[twitter ]https://twitter.com/arielwinter1/status/693935643223683072[/twitter]
2. Aishwarya Rai Bachchan
When the world's most beautiful women was targeted for not losing her post pregnancy weight and her double-chin picture went viral on the internet, she wasn't bothered at all and replied to the haters by saying, "It isn't surprising because in this industry it comes as standard when an actress becomes a mother the focus isn't on her health, it's how fast she lost her weight, and I don't worry about this. To me, the well-being and the health of my family is more important than focusing on going back to my pre-pregnancy body in miracle time."
3.Kim Kardashian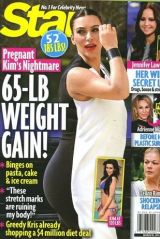 Kim was on the cover of many tabloids for gaining weight during her pregnancy.
She kept quiet till she gave birth but when the criticism continued even after her delivery she gave everyone a piece of her mind via Twitter saying, " Anyone who has had a baby knows how your body totally changes! Making fun of me pregnant and making fun of me trying to loose weight now, shame on you. I'm not perfect but I will never conform to your skinny standards. Sorry! Don't give young girls a complex."
4.Sonakshi Sinha
It's no secret that Sonakshi Sinha was overweight before she joined Bollywood, yet her social media account was filled with people commenting on her weight. She silenced all her critics with this tweet, "To all those who keep commenting on my weight, whether it's a full picture, or a close up where you can't see jack, take a good look at this picture...Now get this: 1) This ain't ever gonna be me. 2) Get over it. 3) I wish you could see which finger I hold up for shallow and idiotic people like yourself.''
5. Demi Lovato
After being in a rehab for her eating disorder you would think people would be understanding about her weight gain, she was shammed for gaining too much weight while she went on to say: "Guess what, I'm healthy and happy, and if you're hating on my weight, you obviously aren't."
6. Huma Qureshi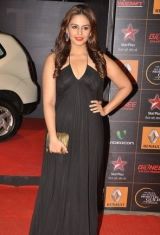 Huma Qureshi was constantly receiving shamming for her plus size curves, until the day she took it all out on the cover of a magazine saying, "I don't owe you perfection! My body, my rules."
7. Emma Stone
While the media has been known to targets celebs for gaining weight, the beautiful (and our virtual BFF) Emma Stone was shamed for being too skinny and in an interview with USA Today, Emma said:
"I've seen a lot of comments that say, 'Eat a sandwich' or 'She looks sick.' I've been looking at myself in the mirror being mean to myself. I'm not sick. I eat sandwiches. I've shamed myself for it. We shame each other online. We're always too skinny or too fat or too tall or too short. It bothers me because I care so much about young girls."
Its high time that people stood up against body shaming anyone for the way their bodies look, and these celebrities turn out to be an inspiration for many.
All we wanna say, in the wise words of Tay Tay…
By Gunjan Sharma