Let's admit it...we admire (and sometimes envy) Bollywood celebs for their super hot, sculpted bods, and secretly curse ourselves for not being as fit as them. But not all of them have been blessed with good genes! Take a look at the before and after weight-loss pictures of these celebs for some instant fitness inspo.
1. Sonakshi Sinha
Sonakshi was massively overweight—94 kilos to be precise—before signing her first film. With a dedicated fitness regime that included cardio, yoga and outdoorsy games like tennis, badminton et al, Sonakshi lost a whopping 30 kilos before she made her debut in Dabangg opposite Salman Khan.
2. Arjun Kapoor
From 120 kilos to 68 kilos—Arjun owes his drastic weight loss to none other than Salman Khan, who motivated him to get fitter and pursue acting.
3. Sonam Kapoor
One of the most stylish actors in Bollywood, Sonam was massively overweight. And just like Sonakshi, she too lost 30-freaking-kilos to get the hot bod she has today.
4. Alia Bhatt
After Karan Johar selected her out of thousands of girls who auditioned for Student of the Year, Alia was asked to lose weight in order to look the part. And the cutesy actor worked quite hard to lose 16 kilos in three months revealing a svelte figure in her debut film.
5. Parineeti Chopra
Pretty confident about her bod, Parineeti regularly got flak for being overweight. However, she didn't get bogged down by all the negative comments and instead, worked even harder to become fitter and more fabulous. A combination of cardio, weight training, and Kalaripayattu (a form of martial arts from Kerala), made her lose significant amount of weight, the right way.
Kareena Kapoor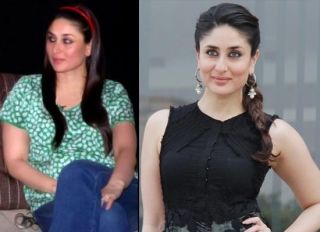 In her initial years in Bollywood, Kareena's weight kept fluctuating... In one movie she looked slightly plump, while in another she looked toned. However, she was never in the category of 'fit actors in Bollywood'. Everything changed when Kareena turned vegetarian (at the time she was dating Shahid Kapoor, who's also a vegetarian) and started working out. Her efforts paid off and she became one of the first women in Bollywood to have a size-zero figure, losing about 28 kilos.