Getting into shape requires challenge , motivation and for some starvation! However, its not always about denying yourself. A balanced diet can actually help boost metabolism and speed up weight loss , and some times its as easy as sipping on the right drinks in between meals to keep you going. We have whipped up eight such super drinks that can help you go from flab to fab in no time . So put some of these in a mason jar ( or tea cup)and drink up.
1. Peppermint green tea: Green tea optimises oxidation , while mint and lemon aid digestion and prevent bloating , making this drink your best friend in a tea pot.
2.Strawberry smoothie : Make yours with skim milk and add oats , yogurt , chia seeds etc. to give your body a healthy dose of protein . Strawberries also provide a great boost to your metabolism.
3.Grapefruit and Pineapple smoothie : Both these fruits are known to be excellent in aiding metabolism and cutting down on fat. Add some raspberries for additional yummies and tons of nutritional benefits.
4.Apple and ginger smoothie : Apple is key to detoxifying and re-energising your body. The high protein content reduces fat intake while ginger acts as a detox agent and aids fast digestion.
5.Spiced ginger lemon tea: Also ideal to drink first thing in the morning , add cinnamon which aids de bloating and weight loss , honey for some detoxifying and good natural sugars and a pinch of cayenne pepper for a metabolism kick.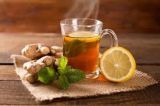 6.Chocolate Smoothie : Perfect for choco lovers , add coffee for that caffeine kick to help energise your workout and boost metabolism .Blend with skim milk to boost protein levels and drink one hour before you hit the gym.
7.Coconut water : This requires no preparation and can be literally consumed straight out of the coconut , which looks amazing too! The nutrients hydrate and help boost metabolism , so have it first thing in the morning or before or after your workout .
8. Black coffee : Known as a fat burner ,coffee does wonders for the metabolism. In fact a coffee shot(Cold) before hitting the gym is said to give you a metabolic and energy kick .
So there you go . Sip on these wonder drinks and watch the pounds melt away as you work out . Cheers to a thinner and sexier you!