Kim Kardashian Reveals She Wants "One More" Wedding
"Fourth time's the charm!"
Wondering if world's most unexpected-and-surprisingly-cute celebrity couple Kim Kardashian and Pete Davidson could get married? Honestly, yes.
Although she's in the midst of divorcing Kanye West (fyi, she's been declared legally single), Kim made it clear that she wants to get married for a fourth time during a chat with friends and family ahead of Kourtney Kardashian and Travis Barker's engagement.
In a clip of Keeping Up with The Kardashians shared by Hulu, Kim said "I believe in love. That's why, hopefully, there will be just one more wedding for me. Fourth time's the charm!" (Psst: before she and Kanye got married, Kim was briefly married to Kris Humphries and Damon Thomas.)
Obviously, Kim doesn't drop Pete's name in the above clip (these two got serious *after* Kravis' engagement), but clearly she is open to another commitment.
Kim and Pete, meanwhile, have been dating since October, and seemed to be pretty obsessed with each other at the Met Gala on Monday night.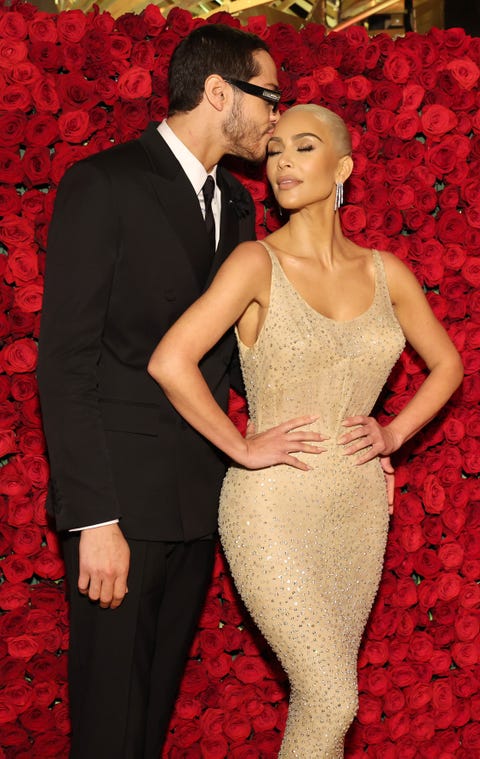 Cindy Ord / MG22 / Getty Images
Kim recently told Robin Roberts on Good Morning America (when asked how serious things were with Pete),"I am a relationship kind of girl, for sure, and I wouldn't be with someone if I didn't plan on spending a lot of my time with them. Obviously, I want to take my time, but I'm very happy and very content. And, it's such a good feeling just to be at peace."
[twitter]https://twitter.com/GMA/status/1511494141850656778?ref_src=twsrc%5Etfw[/twitter]