1. When Ranveer Supported Deepika's Work In Hollywood.
During the premier of xXx: Return Of Xander Cage, Ranveer said, "She is an extremely gifted actor and an amazing movie star. Somebody whom I admire and I'm extremely proud of her. I am a huge fan of the franchise and it's very exciting to see her in this instalment."
2. When He Supported Her 'Live Love Laugh' Foundation, And Posted A Touching Note.
This post is enough to show you, what a supportive and wonderful boyfriend he is.
[instagram ]https://www.instagram.com/p/BLIfq0RgU-1/[/instagram]
3. When Ranveer Couldn't Stop Thanking Deepika, When He Won, Best Actor.
Ranveer's speech was even more of a winner at the IIFA, 2016, when he thanked his 'alleged' ladylove, Deepika Padukone. He said, that nothing could make him happier than she does. He ended his speech, by hoping that Deepika, won the Best Actress award. If that doesn't give you couple goals, we don't know what does!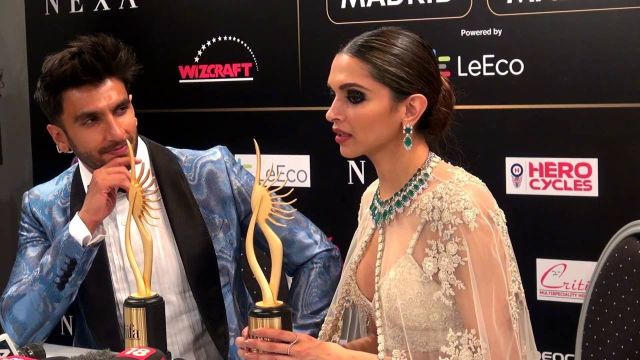 4. When Deepika Said That Ranveer, Was An Important Part Of Her Life.
The actress has always been quite secretive about her love-life, but she couldn't help but gush over Ranveer, on this one occasion. She said, "He (Ranveer) is someone who has always been and will always be an extremely important part of my life. That's never going to change." Is it still an 'alleged' relationship then?
5. When He Flew All The Way to Canada, For Valentine's Day!
Ranveer Singh turning up at your door-step on Valentine's Day. Isn't that the best V-Day surprise or what?! Distance is clearly no barrier for the loved-up duo, when Ranveer flew all the way to Canada, to spend the day with Deepika, on the sets of xXx.
6. When Deepika, FINALLY, Called Ranveer Her 'Boyfriend'.
Even the queen of secrecy can slip sometime, or was it on purpose? Guess, we'll never know. But we do know that their relationship is official.
But during an interview, Deepika was asked about how she feels about Ranveer, working with her ex, Ranbir Kapoor. To which, she said, that it is unfair to ask how secure or insecure her "boyfriend" is. And that, it would be apt to ask Ranveer the question, but on her part she tries her best to make the "relationship easier", by being honest about her feelings towards everyone in her life.
7. When Ranveer Let Deepika Cut His 'Glorious' Moustache.
When most boyfriends don't even let their girls play with their beard or their hair, Ranveer actually let his love, chop off his moustache! Think Deepika was wayyy too happy to get rid of his 'mooch' once and for all.
[twitter ]https://twitter.com/RanveerOfficial/status/677884186187849728[/twitter]
8. When Ranveer Touched Deepika's Parents' Feet Before Receiving His Award.
When Ranveer was announced as the 'Best Actor' at the IIFA awards, the first thing he did was touch his parent's feet and then Deepika's parent's feet! And then he obviously hugged Deepika, because how could he leave her out. But how cute is it, that he respects her parents?
[twitter ]https://twitter.com/DeepVeer_FC/status/696682679220183040[/twitter]
[twitter ]https://twitter.com/DeepVeer_FC/status/696704648443514880[/twitter]
9. When Ranveer Gave Deepika, a Standing Ovation.
When Deepika won her Best Actress award, she tearfully read out her dad's letter. Ranveer, who seemed to be bursting with pride, rose in full support and gave his queen, a standing ovation.
[twitter ]https://twitter.com/DeepVeer_FC/status/696669603712393216[/twitter]
10. When They Couldn't Stop Gushing Over Each Other.
Ranveer, "Deepika has won me over for life, with the kind of strength and courage she has."
Deepika, "He has the ability to make people laugh and feel special."
They're definitely our favourite couple!