1. Abhishek Bachchan is the notorious prankster everyone is wary of, thanks to the countless mischievous incidents to his credit. All, but his wife!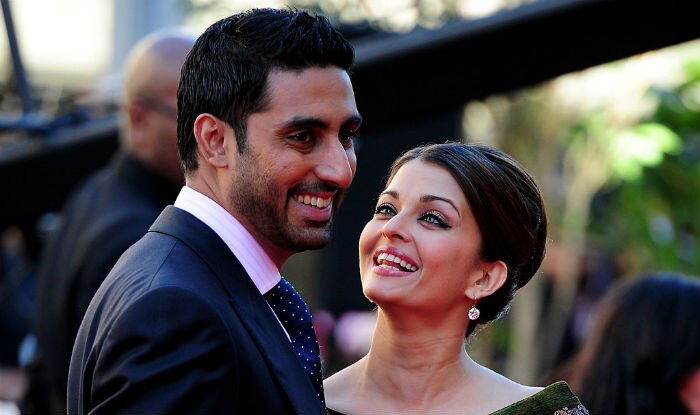 After the music launch of his film Khelein Hum Jee Jaan se, Abhishek decided to play a prank on his wife, Aishwarya Rai. He told her that he is leading her to a hotel room, when she was actually being innocently led to the men's washroom! She burst out into peals of laughter when she saw men staring at her, and realised what had happened.
2. His comic timing is impeccable, not just in reel life, but in reality as well. Yes, we're talking about the famous prankster, Akshay Kumar who has often tried his antics on his co-stars to have a good laugh or two.
While filming Jolly LLB 2, actor Huma Qureshi became his target. He actually stole her phone, and sent marriage proposals to many Bollywood actors! Poor Huma was scandalised when she realised what's happening, and ended up texting everyone to explain the whole ordeal.
3. The fact that we will cite more than a single example of his pranks in this list, speaks volumes about his addiction to pranking the hell outta people!
Ajay Devgn, notorious for his goofy goodness, ganged up with director, and close ally Rohit Shetty while shooting for Singham Returns in successfully fooling the entire cast and crew of the film to believe that the shoot location was haunted! What's more, they went as far as making a spot boy roam around in white gown, just to terrify people.
4. Next to join this bandwagon is actor Shahid Kapoor, who too has had his own share of fun and laughter in the process of be-fooling people.
On an outdoor shoot for his film, Vivaah, Shahid Kapoor decided to have some fun with his then co-star, Amrita Rao. He instructed his make-up man, whose face was covered in glow-paint, to enter Amrita's premises and scare her. While it may seem way too childish to you, the trick actually made the actress scream out in fear!
5. Ajay Devgan, has yet another prank to his name, which will give you a gastronomical nightmare! To prank his co-star Arjan Bajwa, in Son of Sardaar, he once offered him gajar halwa.
While it seems a harmless, sweet gesture, it turned out to be a nightmare for his fellow actor, who had gotten played into believing the true identity of the dish, not realising it was made with red chilli paste. We can say hot AF, literally.
6. We wonder what is it with Bollywood celebs, and ghosts since they clearly seemed to be obsessed with pranks surrounding horror stories and re-creating them!
While shooting for Golmaal 3, Rohit Shetty took Kareena Kapoor's case by convincing her about a spirit of a woman, who had been killed in the hotel, and was still haunting that place. To add to her horror, he even crafted a story that the spirit had killed a guest at the hotel!
7. Aamir Khan has been titled 'the perfectionist' and rightly so, as his skill is inclusive, but not limited to his acting prowess, but even extends to his humorous side. Openly confessed by his wife, Kiran Rao, and other celebs like Madhuri Dixit Nene, and Juhi Chawla, Aamir was a notorious prankster and would successfully get under everybody's nerves.
One of his infamously gross prank was that he would ask for his co-star's palm, on the pretext of forecasting their future, and would end up spitting on their palm! You would have been amused, had he been a 5 year old.
8. Don't be fooled by his chocolate boy looks, and innocent charm - Ranbir Kapoor has been one helluva brat! Probably too much under the skin of his larger than life character 'Bunny', Ranbir got naughty on the sets of Ye Jawaani Hai Deewani, and played a prank on his co-stars Kalki and Aditya Roy Kapoor.
The two actors were supposed to drink from shot glasses and Ranbir made sure he replaced water with vodka, just to add some element of fun. Jolted to their core, the two later realised that it was Ranbir's mischief and laughed along.
9. If you thought Shahid Kapoor was done with scaring people on the sets of Vivaah, think again. Years later, he made his Shaandaar co-star Alia Bhatt, his next target and pulled a series of spooky pranks on her!
Along with bombarding her with various spine-chilling stories, he even showed up at her door after she was asleep, and knocked repeatedly, making freakishly-scary noises! Looks like he really wanted Alia to turn into an insomniac, just like her character in the film.
10. Huma Qureshi, has been pranked not once, but twice by her fellow comrades belonging to the film fraternity! Once when she was in Malaysia, for the IIFA awards ceremony, she fell prey to the prank of renowned music composer, Pritam.
On a short sightseeing tour, Pritam made her believe that shouting her lungs out in the Thean Hou Temple in Kuala Lampur, would fulfil whatever she was wishing for. Unsuspecting Huma, screamed out her desire to fly like a bird, and ended up being pranked, thanks to her gullibility!