How to Make Your Clothes Look More Expensive
Nine essential tips to care for your clothes, and cheeky ways to make them look pricier.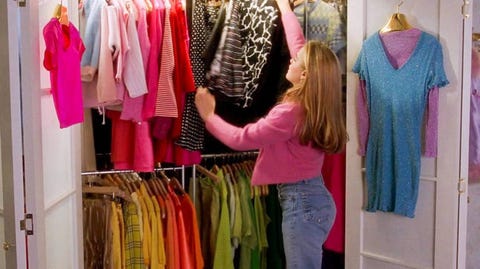 1. Add a pair of points
We love a pointed court or flat, but we hate those pesky creases that appear across the toes after you've worn them. To stop this unsightly mark, simply stuff the toe tightly with cotton wool until your toes just touch it.
2. Stop the snags
Nothing is more annoying than when your tights get snagged and pulled in the wash. To keep your hosiery in tip top condition invest in some little mesh bags to wash your delicates in. Lakeland have the perfect solution.
3. De - Bobble
Cosy knits are a winter essential but the bobbling that comes from wearing them is our pet peeve! Luckily, all you need to do to remove those little bobbly buggers is buy one of these de-bobblers and refresh all of last winter's knits. It's weirdly therapeutic, we promise!
4. Add a scarf
Tie your scarf wrong you instantly look like a bit of a dork. Get it right and it will make an otherwise plain outfit infinitely more interesting. If its cashmere or not too chunky use your sweater, 2 for 1! Also if you get cold you can put it on, whereas it's a bit harder to wear a scarf as a sweater, no?
5. Stuff and Shape
When splurging on a lovely new handbag, you want to make sure to keep it looking fab for as long as possible. When you're not using it, re-stuff it and store in a dust bag to keep it protected and in shape.
6. Colour Bomb
First work out what shade suits you best. We believe anyone can and should wear what they want but with colour blocking certain things just work. A blonde will always look amazing in pink and richer tones like jewel colours work really nicely on brunettes and red heads. Earthy tones (think 70's) work on everyone – hoorah! The key to success is to vary textures.
7. Big vs Small
Where do you put your phone/wallet/house keys/chewing gum? Pah, forget about it, who needs house keys anyway. Carry a TINY bag and offset your normal outfit with a HUGE coat (with HUGE pockets). Think of the Olsen twins and layer an oversize sweater dress over a skirt or dress.
8. Embrace Colour
Black jeans are a wardrobe staple, but we hate it when the colour fades. When washing your favourite pair, turn them inside out and only ever wash on a cold setting. Some people also believe that soaking your jeans in cold water with a cup of vinegar before your first wear will lock in the colour!
9. Use unexpected items
Have a look through your wardrobe with fresh eyes. Your ex boyfriends old swimming shorts? Sure! Those cycling shorts normally saved for spin class? YES BOSS. An old grey track pant from 1996? GET IN. These are all IDEAL. Now put them with something TOTALLY the opposite, like a spangly lurex top or a fancy silk blouse. It's all about playing around with the unexpected..!
10. Don't be afraid of clashing prints and fabrics
Prints or florals of different colours and print size work well together, Susie Bubble is an expert clasher. Spots and stripes in the same colour palette also make for a surprisingly complimentary pairing. A useful tip is to use a plain layering piece in a neutral colour to break up the patterns.
11. Tuck it in
Massive chunky sweaters and jeans can make you look like it's Sunday and you're off for a dog walk. Either tuck your sweater all the way round or just at the back or the front, if it's ultra chunky just tuck in the hem to avoid bulking out your tummy. With a shirt just tuck the side which the buttons are sewn to so it lies flat. When it comes to boots/trouser combo this winter the only way to wear them is a knee boot with your jeans/track pants/trousers loosely tucked in.
12. Layer everything!
Layering is a massive trend this winter, especially when it comes to coats. Cold? Us? Never! Wear a few of your lighter weight coats at once or you can forgo a coat or wear fine layers under a shirt/jumpsuit/denim jacket/dress/summer suit. The styling possibilities are endless!