​What is it about Melbourne that makes it everyone's favourite city in Australia? Is it the edgy street art, the buzzy roof top bars, the fabulous food scene, the lovely parks or is it the cricket?! The Art Capital of Australia, offers a quaint European aura…the trams, the graffiti and the streetside cafes tumbling on to cobbled roads.I have vibrant memories of checking into a rain-swept windy Melbourne armed with frothy chiffon dresses as I was told Melbourne hots up December to February!
There was a distinct chill as I quickly cleaned up and walked down Swanston Street, the lifeline of Melbourne, across which cut most of the main streets and lanes of the city. I wandered off into Bourke Street, winded in and out of two huge department stores: Myer (one of the biggest on earth) and David Jones. And randomly picked Chinatown Dumpling Restaurant, a block down on Swanston for supper and got surprised with some of the best chicken-and-prawn dumplings ever! People-watching is fabulous fun in this city.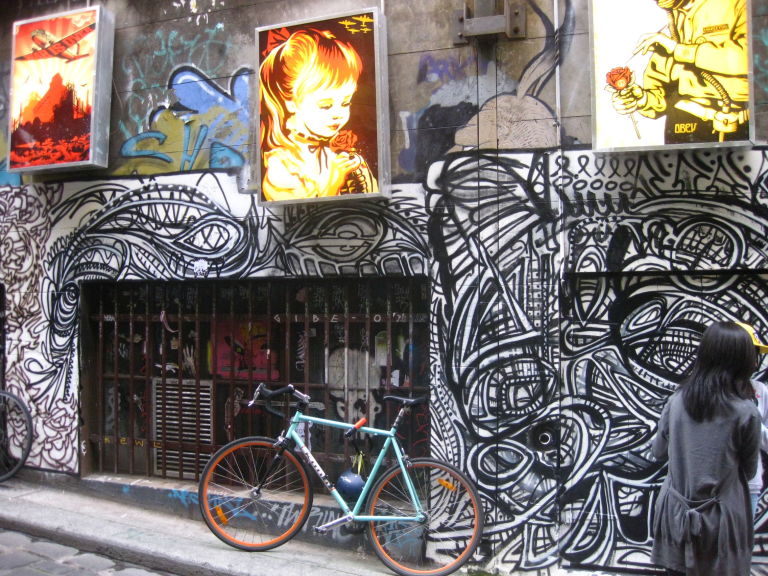 Next morning I find myself on one of Melbourne¹s hippest streets, Chapel St. It is crammed with busy cafés, and some lovely boutiques that draw a cool crowd. The Coffee Club, with square dark brown leather sofas and a goodlooking staff, is one place I could sit down for hours and just watch fashion walk by. Later, I take myself to Collins St, the artsy hangout. Lots of crazy buildings and colourful eateries here.
After consulting my hotel concierge I take the train out to Brighton for sun, sea and the famous, colourful, bathing boxes. I spend the day lazing on the beach, watching families taking their huge dogs out for a bath, or surfers being horribly active. From my lazy point on the beach I see Melbourne's skyline comfortably close.. the wide open skies and laidback summer sea is soul food.
Edgy and yet sophisticated, I found a soul in Melbourne that twins my other favorite city Montreal. Both of them cultural juggernauts that can charm you and bedazzle you breathless.
My pick of five reasons that should pull you to Melbourne in 2016.
EVENT
The Royal Edinburgh Military Tattoo Over 1,200 performers will make their way to Melbourne in February 2016 for a breathtaking performance that defines spectacular. With its unique blend of military ceremony, music and entertainment, The Royal Edinburgh Military Tattoo is Scotland's most famous events which travels to Melbourne this year.The Australian show will feature some of the most popular and best in their field of massed pipes and drums including some from Australia and New Zealand who have previously performed at the Edinburgh Show. This will be a brand new show specially written and produced for Melbourne.
You can't stage The Royal Edinburgh Military Tattoo without Edinburgh Castle as the dramatic backdrop – even if you are on the other side of the world — and Melbourne audiences will experience an extraordinary, life-size replica of the Castle façade with performers entering the stadium by crossing the drawbridge just as they do in Edinburgh!
FOOD
Melbourne Food and Wine Festival from famous dining spots to unexpected venues, rooftop bars to hidden cellars, each year the Festival goes beyond eating and drinking to create memory-making experiences. The 2015 edition saw a pop-up artisan bakery rising daily in the heart of the city; a long lunch for 1,500 people; a rollicking 'low and slow' barbecue opening party; and a global discussion on the future of food.
Now in its 23rd year, this year the festival will take place from March 4-13, and reinforce why Melbourne is a world-class gastronomic destination and salute it's culinary spirit.
CREATIVITY
Melbourne Writers Festival (25 Aug - 4 Sep 2016)
Melbourne Writers Festival is the city's annual, two-week celebration for everyone who reads. The festival brings together writers from around the world to celebrate literature, explore ideas, and inspire readers through a storytelling, conversations and discussions, intellectual debate, educational programs, live performance, music and art events. Events are inclusive of all age groups and many programmes are free without any entry fee.
FASHION
Melbourne, the style city, offers a free "fashion shuttle" from Federation Square to Chadstone, the largest shopping centre in the Southern Hemisphere.
The Free Fashion Shuttle departs Federation Square daily, from its dedicated bus stop near the corner of Russell and Flinders Streets. If you're after something more indie, hop a tram to Fitzroy and start your afternoon at the Rose Street Artists Market. From here, explore Fitzroy. In Brunswick Street, check out vintage and designer boutiques – don't miss Fat and Gorman. Take a detour to Johnston Street to get your bespoke t-shirts from Das T-Shirt Automat, and get smart in Gertrude Street at Smart Alec Hatters and at The Signet Bureau. Bargain hunters, bag the best at the outlet stores at the northern end of Smith Street.
​MY MUST DO
It is an inside access to the city's finest chocolate makers and tastings of Australian and Belgian-style chocolates with Suzie Wharton who walks you around a couple of hours in and out of salons meeting chocolatiers till you feel as delicious as Willy Wonka in the chocolate factory!
BY: ​RITU AGARWAL
CHIEF CONTENT OFFICER, INSPIRED TRAVELLER
A travel writer, editor and curator, the travel bug, says Ritu, found her purely by chance and has traveled a long way with her first to India Today Travel Plus, where she was editor for close to 9 years, and currently with Inspired Traveller a digital platform. Ritu is now giving what it takes to be a travel journalist. Paragliding in Goa made her experience some raw emotions while soaring the skies but she is determined to overcome silly fears and crack bungee jumping soon.