​The whole contouring rage has turned the foundation stick into a magic wand! A few quick swipes and voila, you have a sharper jawline, a straighter nose, and what not! But the Kim K contouring trick can be a tad bit tedious. What if we told you that getting clear, radiant skin and a chiselled face was as easy as drawing one? Well, you're in luck, 'coz we don't mess when it comes to beauty! The all-new Clinique Chubby in the Nude Foundation, a new moisturizing cream stick foundation that has the flexibility to build from sheer to moderate coverage, can help you create a suite of speedy, genius foundation application techniques, just by doodling fun patterns on your face.
Don't believe us? See for yourself.
Here's the whole tutorial: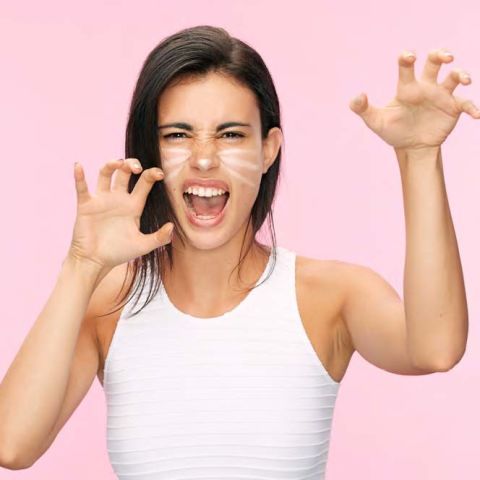 CURIOUS KITTY—TO BRIGHTEN AND LIFT YOUR EYES: To brighten your eye area and create a more lifted, energized appearance, draw three 'whiskers' on both sides of your face. For maximum effect, make sure the top whisker is along the top of your cheekbone, and then, blend all three whiskers upward and toward your temples. Fill in a cute little cat nose and blend well with fingers.
TICK TOCK—FOR SHEER, ALL-OVER COVERAGE: For sheer all-over coverage, apply your foundation stick in dashes at the 12:00, 3:00, 6:00, and 9:00 positions. Blend well. You can dab a li'l more in case you need to increase opacity.
FOWER POWER—FOR FLAWLESS, FULL COVERAGE: Need more coverage all over? Doodle a flower on your forehead, the apples of your cheeks, and your chin. Use your fingers to blend well and you're done!
SPLISH SPLASH—TO HIGHLIGHT YOUR FEATURES: Bring out your best features with a foundation that is one shade lighter than your skin tone. Doodle the centre of your forehead, the top of your cheekbones, and the outer corners of your eyes. Blend well, and glow.
DEER ME—FOR CONTOURING: Like a deer in highlights (but cuter, of course!). For subtle contouring, fill in your T-zone, add a little deer nose, and draw three small circles on the apples of your cheeks. Blend well. For a more dramatic contour, try a slightly deeper shade of foundation.
SHOOTING STAR AND DOLLFACE—TO DEFINE CHEEKBONES: Want killer cheekbones? Use a foundation one shade deeper than your skin tone to enhance the natural contours of your face. Doodle along your cheekbones, and then blend downward. See… contouring isn't that tricky.