It's that time of the year that we all look forward to , a new season of Koffee with Karan. With celebs already making waves with their looks, comments and pairings , we can barely hold on to our coffee cups ( or martini glasses) in excitement.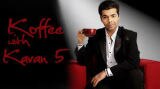 Back on the couch for a fabulous new episode was none other then Sonam Kapoor , paired with her close friend and a ravishingly pregnant looking Kareena Kapoor . We must add that Bebo makes pregnancy look awesome!
However , not only was Sonam fully in check with her comments and quite non-controversial compared to her previous appearances ,she did make one highly pertinent point.
In a low key manner , Sonam brought up the wage-gaps between male and female actors. Sonam , perhaps inspired by Meryl Streep was determined to use her influence to to get some attention to the topic. She asked
"It's not fair. Why is it that Bebo and I don't get enough money than John and Varun.Don't you think it's time ? Bebo has given Ki and Ka, and I have done Neerja. Bebo has proved herself over and over again as someone who has had a brilliant run in films. I think it is about time , as women , as actors ,as artists that we get our due."
Karan Johar chose to change the topic and not discuss the point further , but this is not the first time Sonam has stated the obvious and said what everyone else is thinking.
We hope her comments do call some attention to this pertinent issue .We applaud you Sonam , for always saying what you feel.