The starry life of actors often becomes a source of jealousy for many. Their plush apartments, swanky cars and luxurious holidays could make anyone twinge with envy. But, all is not that glam as it seems. These actors endure a lot to do justice to their characters.
Here are seven such incidents :
1. Katrina Kaif who played the role of a diving instructor in the movie Zindagi Na Milegi Dobara had to jump into the sea for a scene. After two hours of sailing Katrina was instructed to dive into the water. When she surfaced, the actor saw everyone gesturing at her. She brushed it off thinking it was a joke and swam in the sea for sometime. After the shoot got over Katrina was informed that a shark had passed right above her when she dived in. This terrifying incident shook her and resulted in 3 kg weight loss due to stress and fear. Unfortunately, the shoot went on for three days more and the fear didn't make it any easier for her. But, she finished the shoot, nonetheless.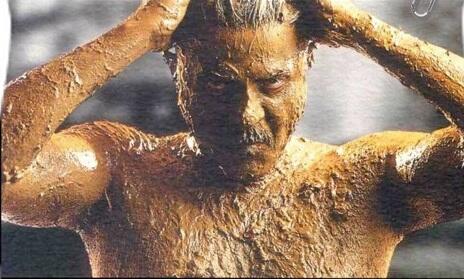 2. An action sequence in Anil Kapoor's movie Nayak became one of the most challenging things for him. According to the script, he was required to be covered in dirt for a very difficult fight scene. He said,"I am fighting naked, covered in multani matti in the film Nayak. It was shot in Chennai. One, the multani matti couldn't have been completely clean. I got a skin reaction. On top of that we shot the scene for 10 days. Two, I had to pump up my body at regular intervals, so that I don't feel cold.Three, I had to frequently remove the multani matti completely from my body and apply it again. Remember, multani matti dries very quickly.Four, the surroundings were not conducive in terms of safety. I was surrounded by a lot of metal castings. So there was always a risk of getting hurt."
3. Remember how Aishwarya Rai Bachchan swayed in the song Nimbooda and made Ajay Devgn's character swoon for her. The reality was nothing close to the festivities we saw in the dance sequence. This fast dance number involved a lot of quick movements. Aishwarya gave a flawless performance even when her feet were swollen due to an accident she met on the sets of the movie. The director, Sanjay Leela Bhansali thanked her for her dedication and a spectacular performance, particularly in this song.
4. During the shoot of The Hunger Games: Catching Fire, a scene where Katniss, Finnick, and Peeta eat fish on the beach, the actors had to actually eat raw fish. The actors went through a weird gastronomical experience to make the scene look authentic. Jennifer Lawrence said in an interview that raw fish tastes just like it smells. Her struggle with the scene was quite amusing for her other co-actors.
5. Even the thought of watching 50,000 cockroaches and 30,000 beetles would make many of us squirm in our seats. But, Steven Spielberg made Kate Capshaw do the bug scene in Indiana Jones and the Temple of Doom with so many insects. To calm her nerves, she had to take a Valium before filming.
6. The Oscar winning role in the movie The Revenant wasn't easy at all. Leonardo DiCaprio had to do many challenging things for the role. But, the one that we'd like mention here is the scene where he ate the raw bison liver. Eating raw meat would be a challenging task for anyone, but the fact that Leo is a vegetarian makes us respect his dedication towards work even more.
7. Liam Hemsworth's pictures all over the internet would only scream glam and that is why most people would find it hard to believe that he had to shoot in an actual hot sewer for the movie, The Hunger Games: Mockingjay – Part 2. It was a very hard scene and their costumes which added up to 20 pounds by absorbing water made it worse. Three weeks of shooting in such conditions shows the actor's dedication.