You've probably heard enough stories, about Bollywood celebrities' uber-luxe homes, and their exotic vacation escapades. We decided pooling the two, and having a peek at their exotic holiday homes which they frequent, now and then.
*Statutory Warning - You might turn green with envy.
1. Shah Rukh Khan and Gauri Khan
He may be Bollywood's fave superstar, but he is also everyone's envy, because let's face it, he is totally living the life we dream of! We know he has earned it, but still we are bound to get a bit J. Remember that bucket list you drew when you were 10? Shah Rukh's palatial villa at The Palm Jumeirah is closely bordering on it. Spread over two levels of a gigantic 8500 sq. feet property, the plush holiday home is enveloped by a 14000 sq. feet plot, and is worth a whopping 17.84 crore. Resplendent with its own pool, and a private beach, it is the Khan family's go-to unwind vacay stop.
If Shah Rukh is in the mood for a quick getaway withing the country, he gets on his private chopper (yep, we know you're dying already, but wait!) to head to his multi-crore luxury holiday home in Alibaug! The doting dad, has also gotten a fantastic tree-house fitted in there, for the latest addition to his one helluva-lucky family, AbRam!
2. Shilpa Shetty Kundra
We are no strangers to the luxurious real-estate conquests of this super-affluent power couple. While you're probably aware of her apartment in the Burj Khalifa in Dubai, and her property on Oxford Street in London, this might surprise you. The duo own a magnificent seven-bedroom property called 'Raj Mahal' in Weybridge, Surrey. Located on the exclusive St. George's Hill Estate, it is an enclave for the rich and famous. Well, duh.
This was a property bought by Raj Kundra while he was still married to his ex-wife, and Shilpa Shetty convinced him not to sell it after his divorce, as she saw it as her 'family home'. Wise decision, lady.
3. Saif Ali and Kareena Kapoor Khan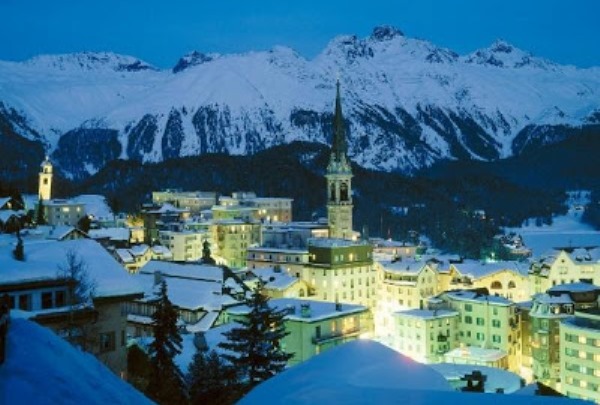 Gstaad, an upscale resort town in the Bernese Oberland region of the Swiss Alps, is nothing short of breathtaking when it comes to a vacay spot, and is the couple's most preferred holiday destination. They inevitably ended up buying a chalet for themselves there. Fancy AF!
The Indian counterpart of their holiday home is the enviable, Pataudi Palace. Built in the early 1900s, it fell into the hands of the Neemrana Group, that ran it as a heritage luxury hotel until Saif repossessed it in 2014, for the love of his life, Kareena Kapoor. Restored to its former magnificence, it's now a go-to luxury haven for Kareena and her much-popular #GirlSquad.
4. Akshay Kumar and Twinkle Khanna
Like all Punjabis, Akshay Kumar too, considers Canada as his second home. So it's a no-brainer that he owns a series of posh apartments and bungalows all across Toronto, to be able to experience home, even when he is shooting inAmerica! When he was done with that, the man bought an entire friggin hill in Toronto, and plans to build a villa on top, from scratch. Now, that is some level of affinity for a place. But who's complaining?
5. Abhishek and Aishwarya Rai Bachchan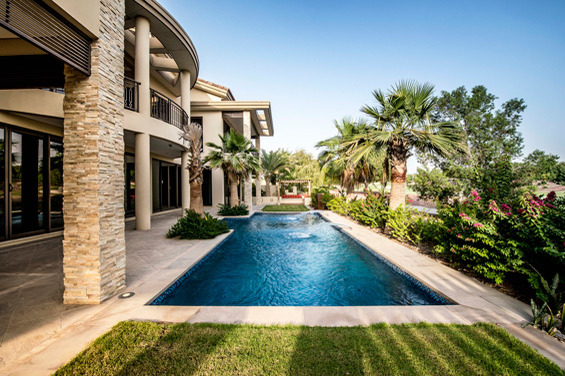 Following the footsteps of SRK, Abhishek and Aishwarya also could not resist the temptation to buy a holiday home in UAE. They are the proud owners of a plush property in Jumeirah Golf Estates in Dubai! The sweet crib is equipped with a Scavolini-designer kitchen, and a walk-in Nolte wardrobe. Now while that was gibberish to us, the area of the resort style villa in Sanctuary Falls (ranging between 5600-10,600 sq. feet) and it's approximate cost (between 15-35 million UAE Dirhams) sounded plain astounding! If that's not indulgence, what is?
6. Amitabh and Jaya Bachchan
Speaking of the Bachchans, Amitabh and Jaya are not far behind. With a house in the fashion capital of the world - Paris, they often head out on a private honemoon (aww!), residing in this special property which was apparently gifted to Amitabh by his loving wife Jaya, keeping in mind his eternal love for the city!
7. Priyanka Chopra
When she isn't blowing our minds with her captivating performances, Internationally as well as at home, Priyanka Chopra often shacks up a vacation in her hard-earned, dream haven of a beach house, in Goa. She bought herself a luxe beach bungalow, close to Baga Beach to fulfill her childhood fantasy of living by the sea!
8. Aamir Khan
One would assume that the 'perfectionist' would hardly have time for a luxury holiday, amidst his busy schedule. But, Aamir Khan does try to fit in a quick detoxifying vacay in the hills, in his holiday home in Panchgani. It is a two acres property, bought off director Homi Adajania, for a value of 7 crore rupees, wayyy back in 2006! Having refurbished it since then, the bungalow is now his easy getaway with wife Kiran Rao, whenever he has time to spare.
9. John Abraham
John's style is minimalistic and sophisticated, reeking of simplicity. But when it comes to choice of location for a holiday home to unwind, he sure has fine, high-end tastes! The actor has indulged in a luxe-home in the exclusive area of Bel Air, LA in the USA, and can proudly boast of a neighbourhood clan in the likes of Hollywood celebs like Jennifer Aniston, and Angelina Jolie! A sound financial planner, he has other property investments in his kitty, as well.
10. Suniel Shetty
When you're a busy celebrity, you cannot afford a vacation, as often as you would ideally like. We strictly mean, in terms of time. Jeez. In that case, a stay-cation is their go-to means, just like how Suniel Shetty invested in a fancy Khandala abode. Decorated with vintage furniture and artefacts from around the globe, the sprawling villa has a pond and a bridge thrown in too, just in case you needed some serious #VacayGoals!