1. When he got banned from Wankhede Stadium
Yes, even the biggest of stars can get banned from common areas– especially if you do what Shah Rukh did! The Kolkata Knight Riders co-owner was banned from entering Wankhede Stadium, by the Mumbai Cricket Association, for misbehaving with officials during an IPL match.
He was alleged to have manhandled a security guard, and hurled abuses at some of the officials, resulting in an initial life-long ban, which was later toned down to a five-year ban.
2. When he slapped Farah Khan's husband
Wait what? Weren't Farah Khan and Shah Rukh defining #SquadGoals for us? They are, but doesn't mean he has to get along with Farah's husband too.
On a standard Bollywood night-out, at Sanjay Dutt's party in a popular nightclub in Juhu, Shah Rukh found himself in a violent brawl with filmmaker, Shirish Kunder. Apparently, Shah Rukh was being stalked and provoked by Shirish, and decided to do something about it. So, he pinned Shirish onto the sofa, and slapped him.
All those Shah Rukh fans, you should probably stop stalking him...
3. When he threatened to leave India if Modi became PM
This little 'lie' was fabricated so much so that every leading newspaper covered this story, stating that Shah Rukh had challenged to leave India, if Modi became PM. First things first, this never happened. It was actually a misunderstanding that gave rise to this major controversy. In fact, it was actor, Kamaal R Khan who had made this statement. People confused 'KRK', with 'SRK'. Really guys? Shah Rukh was not happy and wrote this bitter tweet to make himself perfectly clear.
[twitter ]https://twitter.com/iamsrk/status/468104490902491136[/twitter]
4. When he was detained at an American airport...
...on several occasions might we add.
On the first instance, Shah Rukh was detained at the Newark Airport in New Jersey, for almost two hours! And all because of his last name! He was only released after Congress MP Rajiv Shukla spoke to the American authorities.
The second time, Shah Rukh was detained at a New York airport, after he arrived on a private plane with Nita Ambani, to meet students at Yale University. Nita and the rest of the crew was let through, almost immediately. But Shah Rukh was held for about two hours again.
Don't you get it- 'His name is Khan and he's not a terrorist?'
Good thing Shah Rukh laughed it off, and in a speech to Yale University students said, "Whenever I start feeling too arrogant, I always take a trip to America. The immigration guys kicked the star out of stardom."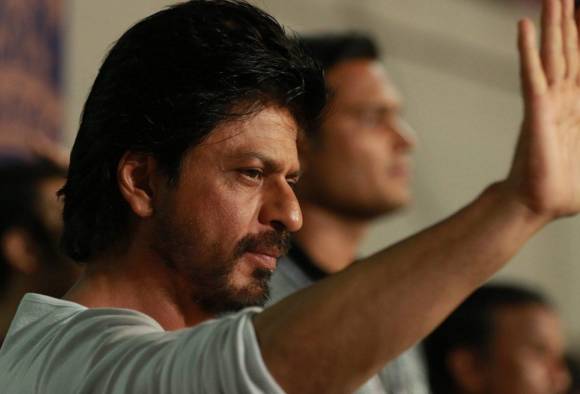 5. The massive cold war between Shah Rukh and Salman Khan
This is probably the most famous of them all, their long-standing rivalry never fails to make headlines. The five-year cold war started on the eve of Katrina Kaif's birthday party, where apparently, Shah Rukh made comments about Salman's ex, Aishwarya Rai, which did not go down well with him.
Ever since, they've stood by their arguments. Salman says, "Shah Rukh and I can never be friends," while Shah Rukh claims, "Salman and I don't talk which is absolutely right.,"
That said and done, we think the duo may be heading towards a clean slate. We've seen them hug it out at various events now, so hopefully they can just let bygones by bygones.