If we were to actually calculate and round up the numbers, I'm pretty certain that the Kardashian/Jenner clan collectively rules every social media platform out there; Instagram being right at the top.
Last year, Kim Kardashian "broke the internet" with her cover for Paper magazine, then there was the #KylieJennerLipChallenge, and Kendall made us all e-evaluate our lives when she rose to best-top-model-status at 19. Yup!
So when Instagram did the math on the most popular picture of the year, it turned out to be Kendall Jenner. The picture that shows Kendall in a beautiful white gown, lying on the floor, and her hair spread out in hearts, people went crazy. That was back in June. It's December now, and the picture still reigns. Check it out!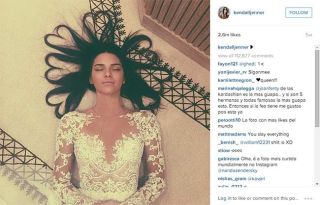 What's more baby sis Kendall even managed to dethrown Kim Kardashian's record for most liked picture on Instagram EVER!
Here's Kim's picture from last year:
And there's more. Sister Kylie Jenner also made the list, but selfie-queen Kim Kardashian didn't even make the top then. Some of the others who made it were Taylor Swift (whoa, shocker!), her cats, Selena Gomez, and Beyonce and her daughter.
Looks like the Kardashians are falling short. The Jenners seem to be taking over the world one-selfie-at-a-time!