Meet India's Top Women Entrepreneurs
The phrase 'Veni, vidi, vici' was invented for this power-platoon of trailblazers. Meet 30 women who took an idea, waved their worldy-wise wands, and turned it into an empire...
Payal Kadakia
Founder, Classpass.com
Struggling to find a decent dance class in her vicinity (and finding no service that could) led Payal to spearhead one herself. "And I got lucky, because I found investors who really believed in my idea, because I was mad persistent!" Payal grins. Their investment proved prudent, as ClassPass' 25 million reservations and 8,000+ partner studios across 39 cities (worldwide) clearly indicate. Her career trajectory may seem a touch askance—a degree from MIT, and then jobs at Bain & Company and Warner Media Group don't quite scream 'fitness empire'—but when she professes a lifelong idolatry for dance, ClassPass suddenly fits. "But still surreal—like this one time in an elevator that I randomly heard two girls raving about ClassPass. It was first time I felt like I'd 'arrived'."
Ashwini Asokan
Founder, Mad Street Den
With Artificial Intelligence looked at as a looming, cinematic concept, Ashwini realised those dream-vision glasses had left the field untapped in terms of actual utility. "This is especially true of Computer Vision or intelligence that allows machines to make sense of the world," Ashwini says, adding that they were "creating a category." "AI is in its nascent stages, but we're working it into machines to give them a more human quality. We're the first Retail Based Artificial Intelligence startup to achieve the scale we have," she says proudly. "And we're 50 percent women—a milestone for me."
Jasmine Kaur
Founder, The Green Snack Co
Despite countless Pinterest boards on kale and quinoa on our smartphone screens, the average Jill was still potato-chippin' it at snack time. It was that unabridged gap that Jasmine capitalised on. "There was no real product that catered to the need for a truly healthy snack. And so, we become the first in the country to launch a range Kale Chips and Quinoa Puffs in a motley of flavours." Her success has been fairly astronomical—"with surprisingly lean operations and low cash-burn" seeing as her snacks are stacked at many major supermarkets. "To be recognised like this in just 18 months of being around—it's the dream!" Jasmine smiles.
Rashi Narang
Founder, Headsupfortails.com
All Rashi really wanted was to spoil Sara (her Labrador) silly. But there wasn't a quality, pet-product store that met this fussy doggie-mama's gold standard, and she thought, "I'm sure there are tonnes of other pet parents that are dying to give their pets the best they can—and no store really caters to that!" And so, Heads Up For Tails began—first with dog beds and clothing, and then spreading like wildfire to 15 fresh categories (including dog treats, grooming supplies and accessories). The elite, start-up club gave her stand-up idea a standing ovation in her win at the Lufthansa's Runway To Success competition, where she beat out 50,000 competitors to go home with the gold. "My biggest relief was just breaking even in the few months we did—because my team of investors was just me!"
Meghna Saraogi
Founder, Styledotme.com
On a sunny afternoon, Meghna was shopping for dresses and, as is often the case, had to "send her friends 300 pictures to decide what to buy". It suddenly occurred to her that every girl has this exact conundrum every time she's at the mall, or deciding what to wear—and it spurred the thought of Styledotme. "I felt there should be an app that has a community of fashion experts and aficionados alike that helps you get (good) advice instantaneously—I mean, I'm talking a ticking timer, if you need one!" Having hit 20,000 downloads within just a year of its creation, Styledot me has 'up-and-coming' written all over it.
Suchi Mukherjee
Founder, Limeroad.com
If you haven't stumbled upon Limeroad in your quest for high-waisted jeans, or the perfect LBD, you've been living under a rock. A bastion for every high-street lover, Suchi is the brains behind the operation that's been bookmarked on many a 'Favourites' list. "We wanted to democratise style and 'bring freshness on steroids' to every user every 30 seconds, via personalisation on their app," Suchi tells us. The phrase is apt, because the merch is current, and regularly rebooted, making market experts liken it to the international biggies in its first year—a mammoth feat for an e-commerce portal in India. "80 percent of our users come in on their own, not because we inundate their feeds with ads," Suchi says. "And they're loyal; that's the ultimate barometer of doing well!"
Radhika Ghai Aggarwal
Founder, ShopClues.com
It was the idea of an online Sarojini-Nagar-meets-Linking-Road that set the idea for ShopClues ablaze. "We wanted a bazaar-esque space where the 'middle India' could shop, that Tier I, II, and II cities could reach without the fuss of the real market grind," Radhika elaborates. An arduous investor-hunt followed suit ("Don't ever expect to strike gold on the first crack," she warns), but the project quickly garnered both investors and speedy success (the customers—all 30 million of 'em—don't lie), and Radhika couldn't be happier. She isolates 'girl power' as a major source of her strength. "They're 30 percent of our workforce, we've helped digitise a lot of them, and most of our consumers are women! I feel like empowering women digitally is ShopClues' real magnum opus."
Priyanka Agarwal and Anshulika Dubey
Co-Founders, Wishberry.in
While a bevy of crowdfunding portals counterparts were giving voice to small businesses and NGOs, creative projects were getting lost in the fray. "We started Wishberry to plug that gap—to have a platform for creative ideas and reprieve," they explain. While crowdfunding was a poppin' fresh thought that investors aplenty were game for, the girls faced a sickening hurdle, "Investor discrimination towards women is real—many believe we don't make good entrepreneurs. One even had the gall to ask for a discount because of it!" The two, however, prove sterling-silver competitors, with 340 projects completed, including three films that won the National Award! Take that, sexist BS.
Niharika Jhunjhunwala
Founder, Sugarbox.in
Niharika's epiphany was recognising that no-one buys you better gifts than you. "Sugarbox is for the new-age woman who wants to pamper herself, because we have the right to feel special without waiting for friends and family to step in!" The monthly subscription-based service delivers a box of hand-picked, adorable pick-me-ups at your door every month—think a cute wallet, lollipop-shaped loofahs, the works. A self-funded enterprise, Sugarbox quickly broke even as payback for the sui generis concept it was. "I'm really proud of having created a legitimately refreshing take on gift-giving," she smiles.
Nandini Rathi
Founder, Betaout.com
To the tech novice, it's a touch tricky to explain what exactly Betout does—but, in a nutshell, it makes marketing software understandable to the average consumer. "We take multiple marketing tools that don't quite come together naturally, and customise them to make useful in the real world," Nandini explains. Hitting almost two million ARR after less than two years of being around proves she's providing a service the marketing industry desperately needed. She loves the #bosslife, but says that "having one [a boss] is a big luxury—when you're on your own, there's no-one to turn to."
Ankita Sheth
Founder, Vistarooms.com
While a million people complain on the regular about bad, budget hotels in Tier II cities, Ankita decided she'd never deal with a dilapidated hotel room (sans no running water) again. Clearly, a lot of people felt the same, and were just waiting for a Superwoman to spring into action, because "eager customers gave the idea enough traction to get investors to jump on board," Ankita says. With 700 hotels across 85 cities in India (and a plan to add 1,300 hotels and 65 more cities to the count), Vista Rooms has a vision that resonates with travellers across the country—and brings more tourists to the Tier II cities that need it. "It's key to never lose focus of your original plan—people will chip in with tonnes of new ideas and plans that dilute your concept—don't waste time trying to test all those ideas out. Focus on the seedling thought alone."
Kavita Joshi-Rai and Bindu Sharma
Co-Founders, Msmbox.com
The idea of a box of lovely, beauty presents landing up on your doorstep like clockwork every month was a refreshing one, and Kavita and Bindu were among the first to get there—but not before they did a copious amount of legwork. "We spoke to over 500 people and analysed social media to get a handle on what kind of products to curate, and formulating a business model." And getting investors was no picnic, either. "Let's just say no-one's too keen on parting with their money! But we definitely met some pret-ty interesting people on the way!" Turning a profit as quickly as their second year is a rarity, but to Kavita and Bindu, the real testament to their success is that customers are seeking them out in droves, "whereas it's usually the other way around!" they laugh.
Arpita Ganesh
Founder, Buttercups.in
Changing the lingerie conversation was a jawbreaker for Arpita, because "for so long, it'd been about sex appeal, and women had forgotten about comfort and fit." It was starting an education (with products to supplement that sermon) that set Buttercups apart from your run-of-the-mill lacy-pushup brands. With 15 percent growth each month, they've wiggled their way to the big time—but like, real lingerie, it hasn't all been sexy. "The growth was slow and steady at first, and while we lucked out with getting investors, it took a lot of 'test-runs' and daunting paperwork to find a model that worked."
Suchita Salwan
Founder, LBB.in
"I was in love with the idea of something that gave you a taste of the local life—but everything I came across (Zomato, JustDial, BookMyShow) were all listing-based. I only referred to them when I needed info," cites Suchita, as her reason for putting lbb.in into play. Local flavor she sought and soon captured, making the webzine the Delhiite's unofficial Bible for everything from the best bookstores to the best butter chicken in town. Having expanded to Mumbai and Bengaluru with equal aplomb is the hallmark of LBB's popularity with people who care about culture, cuisine, and the city. "One lakh daily users is quite the feat for us," Suchita smiles, but follows up by busting any myths we might have about her 'cool' job. "Revving up a business isn't always sexy—the accolades are awesome, but it's more work than you'd imagine."
Neha Motwani
Founder, Fitternity.com
It seemed odd to Neha that, in a world where the word 'fitness' was the hottest tamale, there was no real service that helped connect you to it. "There were many places that could answer 'where can I get good Chinese?' But none that could answer 'what are the best gyms in GK?'," Neha says. Et voilà, Fitternity. With over one lakh users and tie-ups with 25,000 classes, gyms and healthy eating outlets in India they can connect you to, the business has officially become the "Zomato for Fitness". "The core idea was to make fitness accessible to absolutely anyone who wanted it—and at the rate we're growing (30 percent each month), I think we're really making that happen."
Nidhi Agarwal
Founder, Kaaryah.com
"They don't have my size," was essentially the nuclear thought that gave Nidhi the idea for kaaryah.com. "There was a white space in the market for westernwear that actually, really fit the Indian silhouette—catering to the elusive 'perfect fit' formed the base of the brand." Being the only Indian brand to offer 18 different sizes was a philosophy that clicked enough to get Ratan Tata to jump on board the fund-wagon, "after 113 pitches and non-stop calls for 364 days!" she says, with a 'phew'. With a loyal following who now only shops Kaaryah, she feels her biggest success is their vote of confidence and, of course, "the fact that I don't have to explain Kaaryah if I walk into a room. People know what it is!"
Rashi Menda
Founder, Zapyle.com
Rashi's love for luxury spawned what is effectively the country's biggest closet-swap. "When I was in Mumbai, I found it surprisingly easy to acquire pre-owned luxury—not so much in Bengaluru. Turns out, when you're not in a metro city, access to pre-owned luxury is non-existent," she says. A clever idea, because Rashi tapped into the brilliant fact that one woman's old, fatigued somethin'-somethin' is another woman's fabulous bargain. "Luxury isn't something you can invest in easily, so something like this makes it much easier to buy—and, of course, for women to sell what they no longer want, but have kept in pristine condition!" Rashi says. Less than a year of being operational, and Zapyle has been averaging a 30% month-on-month increase, with 15-20 orders daily (each for an average of `12,500), so business is obviously cracking. "Never take your eye off the numbers—they're the best advisor," she suggests.
Vineeta Singh
Founder, Fabbag.com
It's not a given that someone that cares about beauty inexorably knows the innards of it. The novice, too, needs a advisor, and FabBag is that advisory voice—and it comes bearing gifts! "When we launched in 2012, there was nothing like this concept, so I knew it would take. But not before we put together a bulletproof pitch to investors—proof of concept, market identification, a month-on-month growth plan, et al," she tells us. Her concept came to be a beauty aficionado's 'hallelujah', visibly proving it by raking in `12-15 crores a year in revenue! When she tries to decode what made her successful, she says, "Be shameless and persistent. Don't be embarrassed about asking—check your bashfulness at the door, please!"
Renu Bisht
Founder, vanitycube.in
"I've been dying to get waxed, but where's the time?!" is the oft-uttered sentence that made Renu Bisht a veritable fortune. The service she enkindled says, 'If you can't come to the salon, the salon will come to you!' "Our USP is that we deliver every salon service you can think of, straight to your door," Renu smiles. The app, which gets you a fair-priced beauty service in 90 minutes or less, has struck a chord with women that want quality parlour-time, but can never carve out enough to head there. People hope to break even in their second year running, but VanityCube hit paydirt in the first month—and it's growth continues to gallop. "People erroneously believe you need big money to start," she clarifies. "All you need a is small, tidy sum that can prove your model works. Then, people will break out the goods of their own volition."
Ajaita Shah
Founder, frontiermkts.com
Shaking up the dated notion that alternate fuel sources is a concepts in cahoots with the elite, Ajaita introduced it to rural India. "When I was working in rural India, the challenges with electricity access that households faced became all too obvious, but nobody was focusing on fixing them." Enter Frontier Markets, designed to first educate the rural populace about—then inject their homes with—solar energy. Now, spread across 15 districts with 800 retail points, and reaching over 130,000 households, she's made that assumption impossible. She credits part of her success to something we don't hear every day. "Guts and humility are, of course, crucial—but a little charm goes a long way with investors."
Shriti Chhajed
Founder, BookEventz.com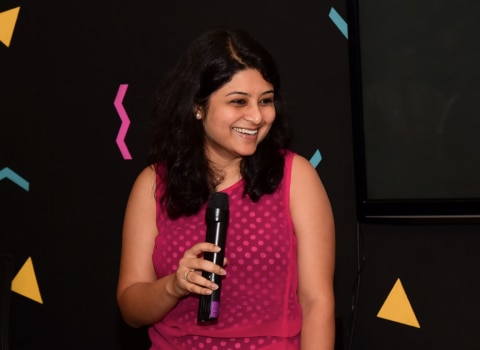 It isn't hard to find a quality event management company, but it will invariably slap you in the face with a bill of epic proportions. Doing right by the customer and cutting through all the red-tape took precedence, and bookeventz.com was born as a consequence. "We weren't even working with a fresh model," Shriti shares, "just a crisp, no-nonsense one that was working wonders in the West." The model basically made planning an event as easy as ordering a sub online—Pick a kind of party>venue>elements>cuisine and your hand-picked party will be put together for you. That it's currently handling 200 bookings (with three crore rupees in revenue for every event) one to aspire to.
Ritika Nangia
Founder, Funcart.in
Degrees in commerce and fashion landed Ritika somewhere she didn't expect—creating an online party store. The dearth of a one-stop-shop for everything from baby shower to bachelorette and sangeet, led her to traverse the unknown and create funcart.in ("Well, not that unknown," she muses, adding that her commerce-fashion education could be hyphenated with business courses at Harvard, too). It struggled to find its funding feet, but stood up tall as hell when it did. "We surprised ourselves when we managed to raise `50 lakh in seed-funding from a group of high net-worth individuals in the first year of operation itself," she tells us, adding that now the company pulls in `80-90 lakh a year. "I think FunCart worked because it was niche—any good start-up should fill an actual gap."
Nidhi Gurnani
Founder, Cardback.in
In an era where a cashless economy seems imminent, cardback.in is a savior in a corporate suit—except they got there before the big currency flip. "A credit card was then looked at as privilege. People were being inundated by banks to get them—without explaining why, or how they worked. We bridged that chasm of information," Nidhi tells us. In a premonition to the current financial famine that calls out desperately for cashless banking, Cardback reached out to thousands of people, sequestering the safety and usage doubts surrounding cards. "Having educated them about the benefits of being 'cashless' well before the fin-tech revolution even began in India is something we're incredibly proud of."
Pankhuri Shrivastava
Founder, grabhouse.com
The options for a person scouring the city for a set-up house with a flatmate were twofold—go through a broker and pay through the nose or try a number of websites with not enough information or guarantees. That is, until Pankhuri and her partners decided to change the game. "I wanted to help young renters that couldn't find one portal that actually helped," Pankhuri tells us. "So we took the broker out of the picture, fact-checked the homes on offer (and made those facts fully available to customers) and checked back in with them to make sure they had found a house—only then would we consider it 'closed'." Having zero real estate experience makes the fact that she's 'closed' 7,00,000 houses in under two years of being around all the more commendable. "We were fresh out of college—no bias, clean slate. It really worked in our favour."
Aditi Chaurasia
Founder, Engineerbabu.com
Being from a Tier II city and not having an IIM or IIT degree in her arsenal may have made it "really hard to find funding", but it didn't stop Aditi from co-founding a portal that helped lakhs of extremely qualified engineers find great projects, pan India. To add to that little package of obstacles, "people in my small, hometown of Chhatarpur MP couldn't fathom a girl doing business," she rolls her eyes. Only three years post coming together with like-minded co-founders, getting funding, taking a viral FB page and turning it into a business—and engineerbabu.com is a noted vehicle for efficiency in its field, globally. Her biggest takeway is to "never let a lack of funding stop you. If your idea is solid, the money will come."
Anisha Singh
Founder, Mydala.com
Despite being told she was in a "Groupon competitor club", and facing major initial pitfalls with funding, Anisha was convinced her idea—that hooked up you with varied discounts for beauty, books tattoos...you name it— was unique. "The trouble with starting a dot com is that everyone thinks they're God's gift—and they think funding is cake. But truth be told, that's a major myth. Getting investors is an elephantine task!" One that, clearly Anisha eventually aced, because Mydala isn't just on the world's radar, it's been turning a colossal profit for the last three years and has made its way to 200 cities in India. "No matter what anyone tells you, to create a successful start-up, you need to be a Hindi movie hero—the kind that keeps going after being hit by 62 bullets and 42 fists. There is no better parallel."
Nidhi Saxena
Founder, Zoctr.com
Home-based healthcare the way Nidhi planned it was a relatively novel idea. "Many critical conditions are chronic, that need long-term support. Our home-healthcare provides that with a very tech tuned-in system that has apps for appointment-booking, monitoring the patient with wearable devices, plus tele and video support, and real-time interface with your doctor." The exhaustive service attracted investors like bees to honey, and was quick to turn a profit; quite specifically, "two million dollars, with a 35 percent GM for 2016/17," she mentions, casually, because her big success is having "created jobs for 500+ blue-collar workers while supporting cancer, elderly and post ICU patients. What could be a bigger pay-off than that?"
Tanvi Malik and Shivani Poddar,
Co-Founders, faballey.com
Tanvi and Shivani hit a roadblock when it came to finding western trends online for women on a budget. "If women had the money, the world was their oyster—but women with a smaller wallet, however, only found this constant milieu of ethno-fusion clothes." And presto: the perfect entry-point for faballey.com. Their understanding of their consumer led them to be true bestsellers (because, at 2,000 orders a day across 10,000 pincodes in India, they've earned the tag), and had Myntra, Jabong and the like knocking at their door because "their customers were asking for FabAlley. People had even begun to subscribe to our style aesthetic. Like, if we styled a top or bag with a certain skirt, they'd buy the whole look. Having our customers trust our taste is something we consider a gargantuan triumph."
Tanaaz Bhatia
Founder, Bottomline media
Life was good for Merrill Lynch hot-shot Tanaaz, because her family life and career were in total sync. But when a family tragedy made that veneer of perfection come crashing down, Tanaaz, amidst big decisions about her family business and trying to find a new job, realised she had a budding business in her bones. "The idea of a bespoke marketing solutions company (that takes care of the A-Z for our clients) excited me enough to do with my own funds instead of taking on investors," she tells us. To explain what their modus operandi is, she reveals it to be the brains behind Shah Rukh Khan's RA One campaign (remember the figurines and video games?), Vicky Donor, and more. Having been rah-rahed by many a publication (monthly, weekly, daily) for how she's revolutionised marketing, Tanaaz has a word to the wise: "Don't worry about breaking even—worry about being known. Success is clients contacting you, not vice-versa. It's how I knew we had made it."
Pronita Saxena
Founder, Citizengage.co
For Pronita, segregating her waste into 'biodegradable' and 'not' was simply not enough of an environmental contribution—and thank God, because it sired citizengage.co, a true recycling revolution for its time. "There are models the world over, but this one is inimitable—it makes use of the full potential of waste in a way that hasn't been attempted before," she says. She believes her education in behavioural economics, and moving from her initial preferred field (policy research) to clean energy were all add-ons to their success—the biggest marker of which was "lighting up Domlur park with only waste from restaurants across Indiranager [both areas in Bengaluru]. We might even be getting approvals to demonstrate a city-level blueprint because of this feat. It has let us prove our point (that waste management can do a helluva lot more than it currently is) with pomp and splendour."